Staying true to what works.
The iDerm Facial
Our Signature Facial Treatment has not changed since it was first introduced in 1972. Our highly effective facial takes a unique, clinical approach combining skilled extraction techniques, proactive ingredients including Zinc, Collagen, and Vitamin C, with an electrical galvanic current.
The results? Changes at a cellular level lead to reduced redness, acne, blackheads, and wrinkles while improving skin tone, firmness and clarity, leaving you with a glowing complexion and no downtime.
A combination of tools and products of the highest caliber.
Professional Facials
Cleansing, exfoliating, extracting and hydrating the skin with a combination of premium products from SkinCeuticals or ZO Skin Health.
These highly adaptable treatments, which are suitable for a variety of skin types, reduce the appearance of a number of skin issues, such as discoloration, pore congestion, fine lines and wrinkles, skin firmness, and acne.
Learn More
Next generation in full face diagnostics
SkinScope Skin Analysis
Face diagnostics designed to reveal underlying skin concerns before they rise to the surface. Reveals visible and underlying skin imperfections using simulated daylight and LED-UV light.
Learn more
Premium Cosmetics
Face Place is a proud partner of Skinceuticals and Zo SkinHealth, the worlds leading skincare brands, used by dermatologists, plastic surgeons, and medi-spas for daily homecare and to complement aesthetic procedures.
Learn More
Packages & Bundles
Take advantage of the opportunity to purchase treatments in value packages
and treat yourself your skin some love. Plus, you'll save money.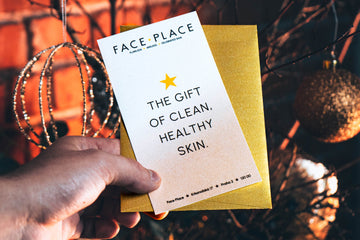 Gift Card
Looking to give the gift of perfect skin to a loved one or colleague? Well, look no further. Face Place now offers gift vouchers!
Buy Now
"Nobody does a facial like Face Place! They really know how to clean the skin."
"I walked into the Face Place 20 years ago and haven't stopped going there since.
Mary-Louise Parker (Actor)
"Face Place is the only place I get facials... In the world!"
"I've been going to Face Place for over 10 years. They make my skin look better every time!"
"If you're looking for glowing, clear, clean skin then the Face Place is the place to go."
"I know my skin wouldn't look as good as it does without their treatment."
"Nothing is as wonderful and as pure and simple as a Face Place facial."
"Face Place is the best. They have such a great technique and their products are fantastic. They really do change your skin".
Jewel (Singer/Songwriter)
"The treatment has one signature and its goal is simple: to clear, restore and maintain healthy skin and the results are amazing."
"If you are looking for clearer, firmer and smoother skin, then you should visit Face Place."
"Face Place has completely changed my skin! I have sensitive and oily skin and they somehow found a way to manage both. It's been a lifesaver with filming!"
My skin gets better and better with every session. I am so glad we met and honestly never felt better!
Follow us our social media.
Tag our profile
@faceplaceprague
in your instagram posts so others can discover the magic of Face Place. Learn more in our
Instagram.